Are you planning on spending a few days in Sabadell, but have no idea what to visit? Sabadell has dozens of places you can go, including natural parks, gastronomy hubs and architectural sights!
Here, we'll recommend 10 of the best places in the city, with rave reviews not just from tourists but also from travel magazines. These are 10 must-see places to visit in Sabadell!
Museu del Gas
Work of architect Juli Batllevel en 1899, it is an icon of modernist architecture in Sabadell. The purpose of this building, headed by Joan Brujas, was to produce electricity with gas turbines.
Among locals, this building is known as La Energía. It's hard to miss, as it's located in the Plaza del Duque de la Victoria, which is now known as the Plaza del Gas. A perfect place for architecture lovers or to spend a nice time in the plaza, seated on a bench and reading a book or having a soft drink.
Iglesia de Sant Fèlix
It's not uncommon to visit a church if you are doing a bit of sightseeing. But the real charm of the Iglesia de Sant Fèlix, officially called Sant Feliu, is its bell tower. It is built in the baroque style, with an octagonal layout and three bells, two liturgical and a third that marks the hour and quarter hours for the city.
Inside, you can see an exhibit about the building, including the bells that have been used over the church's lifetime and the last clock that controlled them in 1903. A tower with nearly 3 centuries of history,which has become emblematic of the city.
Mercado Central de Sabadell
Both tourists and tourism experts agree that this central market is perfect for personal enjoyment or to pick up the freshest ingredients. This building occupies no less than 4000 square meters and is located in the Plaza del Mercat, the name currently given to Camp de la Sang.
The lead designer of the building was Josep Renom, with construction beginning in 1930. Since then, the building has been renovated on several occasions. It has four large entrances and magnificent staircases to welcome anyone arriving in the plaza from any adjoining street.
Inside, you will find nearly a hundred stands formed by a system of metallic structures and a central nave measuring 22 meters. The interior is an impressive sight. On certain holidays, such as Christmas or Easter, they often set up booths and events related to the festivities, with sweets worthy of such special holidays.
Los Lavaderos de la Font Nova
In every city, there's some building that helps visitors take a journey to the past. In Sabadell, there are the Lavaderos de la Font Nova, located in the city center. Built in 1837, this building was used to provide residents with a source of water. Initially it was open-air, until architect Miguel Pascual designed a project to enclose and cover the facilities in 1893.
It fell into disuse in 1997 because of the availability of running water at home. Former meeting place for women to do the washing and a building with a social function, said to have been the subject of debates, as well as for entertainment and singing. A structure with a modernist style which opens its doors to visitors and to students who need to do an activity for school.
La Torre de l'Aigua
A monument you've most likely heard of, even if you've never set foot in Sabadell. The city's most iconic building, a tank 50 meters high held by eight pillars that was used as a water supply thanks to its proximity to Ripoll River.
This service allowed for the population growth in the city in the 1920s. It began operating in 1922 until 1967. It is one of the 100 Elements of Industrial Heritage of Catalunya, and it can be accessed to use the lookout on the top floor, where you can enjoy gorgeous views of the city. It is located near Hospital Parc Taulí.
El Vapor Buxeda Vell
Are you interested in the industrial age? Many buildings from that period have been preserved in Sabadell, such as the Vapor Buxeda Vell, located on Calle Sant Pau. A textile factory built from 1852 to 1854 which was in operation for years. The factory was dedicated to the production and manufacture of wool, cotton and woven fabrics.
Sabadell City Hall, the current owner of the building, renovated the interior and converted it into the Museo de la Industria Textil Lanera. Inside you can find the machinery and technology, in perfectly conserved condition, that was used with the power of steam in the last century.
Museu Català de Paleontologia Miquel Crusafont
Sabadell not only houses artifacts from the textile industry and smokestacks, it also studies a different sort of history: the Museu Català de Paleontologia Miquel Crusafont, where you can see a collection of fossils that includes some of the most important in all of Spain, from prehistoric mammals found in Catalunya.
The museum is also home to a replica of a triceratops and the skull of a tyrannosaurus, along with pieces that help us to better understand the period between hominids and our primate ancestors. The best place for young and old alike to take a journey through time and discover more about these massive creatures that walked the earth before us.
Torre Millenium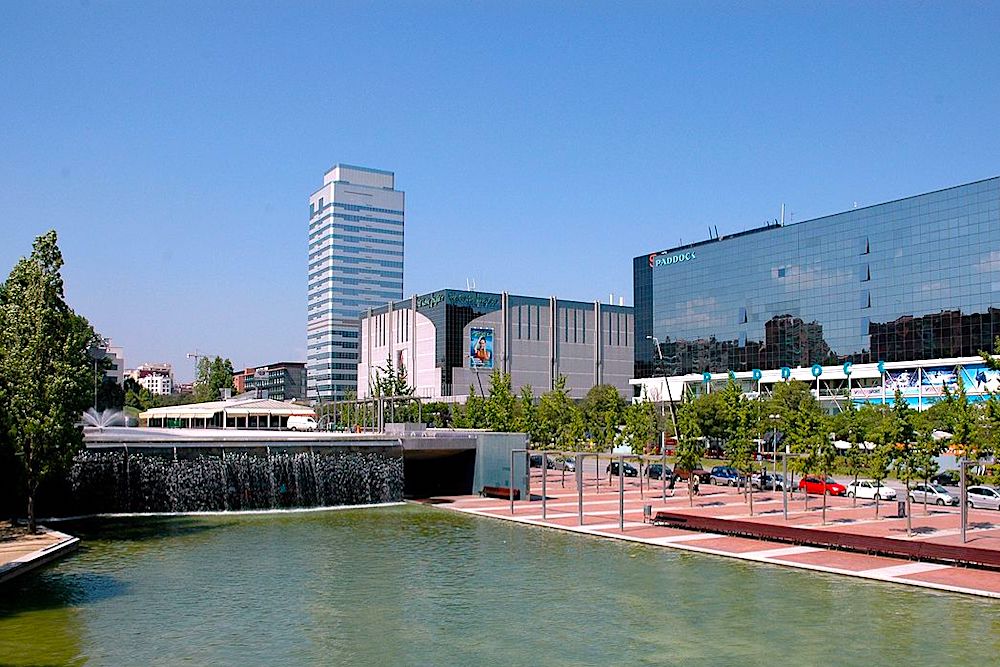 You won't be able to go inside, but this office skyscraper, located on Avenida de Sabadell, is a beautiful example of the work of Joan Roig and Enric Battle, the architects responsible for the building's design.
The interior of Millenium Tower is replete with offices, including law offices and notaries as well as offices for companies. Despite its modern style, it fits in perfectly with the other neighboring buildings.
Castillo de Can Feu
What's better than going into an old castle and investigating every nook and cranny? The Castillo de Can Feu was a fortification in the late 19th and early 20th centuries, with towers, large windows and heraldic elements.
A medieval building that stands out among the industrial-style streets, constructed over an old 12th century farmhouse. Thanks to the world of archaeologists, we know that part of the original was destroyed between the 16th and 17th centuries. During this period, it served an agricultural function. There are many legends surrounding this fortification, for example, that it looks like a castle because of a bet between some cousins of the Feu family.
Santuario Mare de Déu de la Salut
In the mood for a bit of trail hiking to see one of the most beloved places in Sabadell? Situated on a charming hill is the Santuario Mare de Déus de la Salut, a beautiful example of the architecture of the past, with a lovely candle room and very pretty grounds.
Locals make the most of the grounds by having picnics and barbeques in the designated areas, and there are also several hiking routes you can explore. In April, to celebrate the Day of Mare de la Salut, pilgrimages are made here, so if you are in the city that time of year, you won't want to miss it! They're quite spectacular!